Designed for Your Lifestyle
Versatility is Key, Allowing for Seamless Transitions from Vehicle to Activity
ENGINEERED FOR LIFE
Designed by our in-house mechanical engineer, Optimus Gear has developed a suite of products that will protect your pets, family, and vehicles. 
WHY OPTIMUS GEAR?
Benefits of the Defender Harness include: 

 Distracted Driving: stopping your dog from having free range in the vehicle, which is a big distraction for drivers.

 Collisions: if you've ever had to hit the brakes quickly with your dog in the back seat, you already know how sad it is when they scoot off the bench and bump into the seat in front of them. 

 Protecting Everyone: In addition to keeping your dog safe, we want to make sure that everyone riding in the vehicle stays safe.
Buy it Now
Our Differentiators
Safety Protection
Premium Brand
Warranty Policy
Canadian Made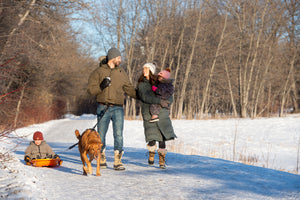 Engineered for Everyday Life
I know first hand what it feels like to be involved in an accident with your dog strapped into the backseat. Unfortunately, the harness I owned at that time did not hold, even though it said it had been crash tested. I now own a Defender Harness by Optimus Gear and I love it. This harness has been successfully crash tested. From now on I will trust only Optimus Gear with the safety of my most precious cargo.

BJ

Ottawa
I did not get the Optimus Gear seat cover because of my dog. I got it because my kids [5 and 2] had all but destroyed the back seat of my car. Every time I removed a car seat I was greeted by incredible stains, ground up cheerios, muddy boot prints, and open markers pressed into the seats. Now my seats are protected, easy to clean, and best of all it is incredibly easy to hook up my car seats with the seat cover.

Darryl Conrad
Designed to last…

We have a Siborgi and a Jack Russel puppy, and every time they get in our car I'm thankful for these seat covers.  These twins of terror don't stop their rambunctious play on the way home from the dog park, and when we're at the cabin, they have a knack for sniffing out the muddiest areas of the bush just in time to climb in to the car and head back to the city.  After 3 months, the easy-to-clean, durable fabric barely shows a scuff!  The seat covers take minutes to install, allow easy access to the seatbelt latches, and the zipper on the rear bench cover conveniently allows one or both of my rear seats to fold down easily, without any twisting or pulling on the material. These covers are designed to last and worth the money.

Stephen Holbrow
We love our Optimus Gear Seat Shield and Defender Harness! The seat shield is easy to install and remove. The harness keeps everyone safe on trips to the cottage. Mika can sit up or lie down wearing the harness. High quality items!!

Jen Piasecki